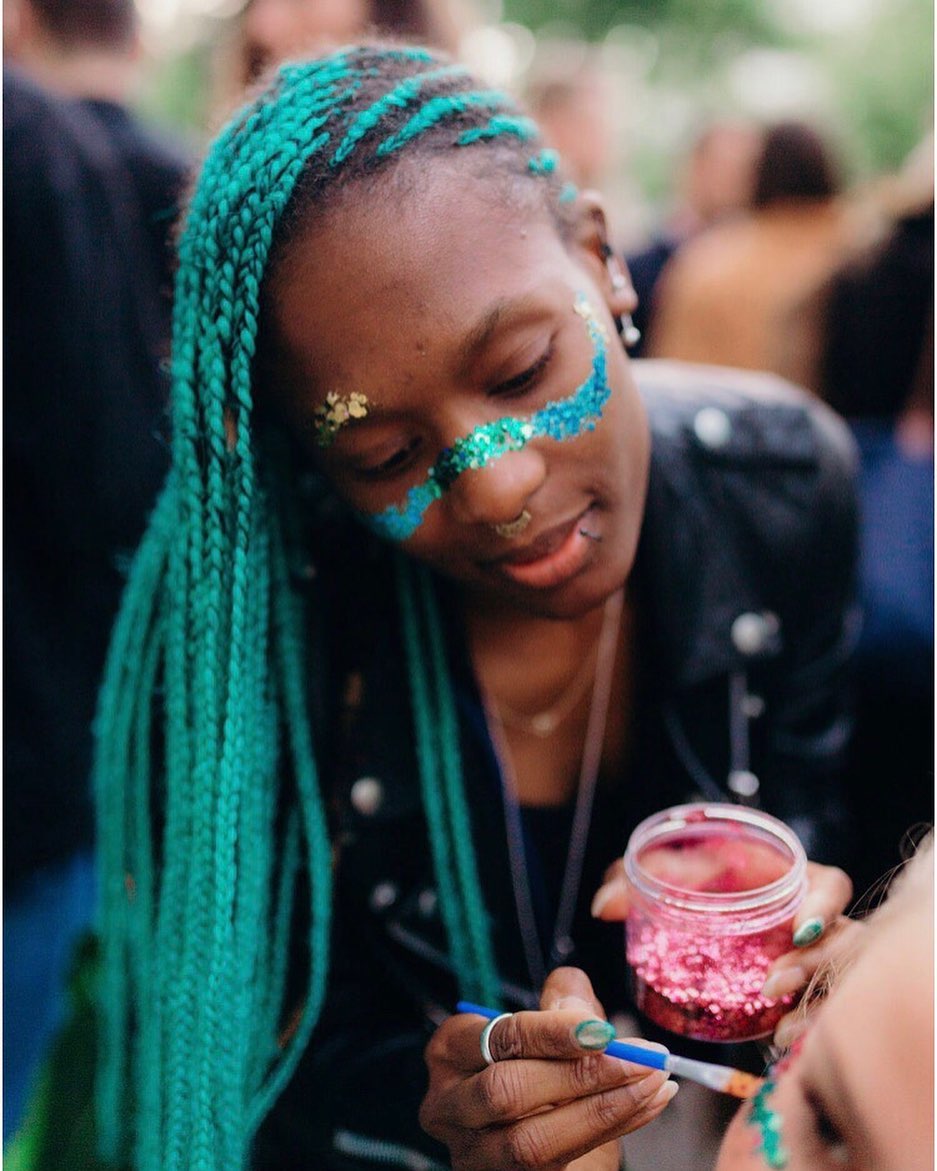 Make your event sparkle with the eco-friendly touch of the Projekt Glitter Bar
We specialize in creating biodegradable, eco-friendly glitter experiences that will leave your guests dazzled
Get in touch
Planning a festival, party, or corporate event?We've got you covered.
With our plant-based glitter, you can add some sparkle to your event without harming the environment. Plus, our team is dedicated to educating and raising awareness about the negative impact of traditional glitter on the environment.
So go ahead, hire us for your next event and let's make it a glittery and eco-friendly success!
What the Projekt Glitter Bar includes:
CUSTOM GLITTER: We'll pick out the best eco glitter shades and mixes to suit your event. What's more? You can even make your own custom bioglitter blend with your own custom branding.

GLITTER ARTISTS: We'll send you our talented, trained glitter artists to sparkle up your guests. They're used to creating magic at all kinds of events - from large corporate Christmas parties & festivals to birthdays & weddings. From subtle to super extra, from Christmas to Fashion shows, they can handle it all! Special looks can be requested.

GLITTER BAR SUPPLIES: The perfect glitter kit including makeup brushes, biodegradable glitter in pro pots, our natural plant-based glitter glue, our face gems, body gems, mirrors, eco decorations, props. Everything is possible based on what YOU are looking for!

DESIGN CONSULTATION: We'll plan out the glitter bar based on what your event space looks like. The bar is completely customizable, can be themed, decorated and decked up based on space and taste!

EVENTS WITHIN BERLIN: We are Berlin based, so coming over to your event is no problem for us at all!

EVENTS OUTSIDE OF BERLIN: We're a small team, but we can do big things! If your event is outside of Berlin, we can set you up with a DIY Projekt Glitter Bar or help with recruiting Projekt Glitter Ambassadors for your city!
Book the Projekt Glitter Bar for Sparkling Events!
For only EUR 350, you'll enjoy 3 hours of glitter-filled fun, accompanied by a skilled glitter artist. This package is for events with up to 100 guests.
For larger events, we recommend our premium package at EUR 500, which includes two glitter artists to cater to your guests' shimmering desires.
Whether it's a wedding, festival, or private party, our glitter bar will leave everyone mesmerized and glowing.
Click below to drop us a message with details about the date, location, and size of your event, and let the glitter magic unfold!
Some of our past events
LEVI'S BERLIN PRIDE STAND, BERLIN

We sparkled up the Levi's Team and guests for Christopher Street Day which is the celebration of Pride in Berlin. Because glitter looks best when worn with pride!

LULULEMON SWEATLIFE FESTIVAL, BERLIN

For Lululemon's first Sweatlife Festival in Berlin, Projekt Glitter provided braiding and glitter services for all the participants and a chill out area after a hard workout.

HELLO BODY SUMMER LAUNCH EVENT, BERLIN

Hello Body are all about natural beauty products, so for their summer press launch, Projekt Glitter was naturally invited along to sparkle up the crowd. 

IMPACT HUB BIRTHDAY BASH, BERLIN

Impact Hub are all about inspiring social impact and connections, so for the 3rd birthday bash, what better way to celebrate than with a good dance and a whole lot of glitter?!